Many of us fear it, and continuously seek the unwavering comfort of sameness. In sameness, the door is gently closed to a world of possibility at the end of the day.
But believing that the Universe has a greater plan for you, and trusting the process that leads you down a new path (or two)…that's being open and accepting and ready to embrace the world of change. This is where excitement lies. And this is where we may be given the opportunity to find our most authentic selves…and lead a more meaningful and joyful life.
Wow. Enough already.
This kind of heady stuff calls for a satisfying, healthy treat, like this supremely delicious and decadent dessert that I whipped up for friends the other night. It's called Raw Chocolate Fudge Cake.
Yes, cake.
The credit for this sumptuousness (including photo, since I forgot to snap a pic!) goes to Katie of Chocolate-Covered Katie fame (chocolatecoveredkatie.com).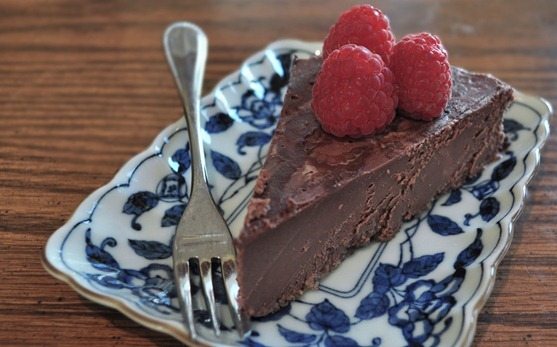 Photo credit: chocolatecoveredkatie.com
Now, to help simplify the already simple process…here is Katie's recipe version for a full-sized pie plate of chocolate love:
Ingredients
1/2 cup raw cacao powder
2 very ripe bananas
1/2 cup coconut butter (not coconut oil; see photo below…and note that there are many other brands out there)
1/8 tsp sea salt
natural sweetener, to taste (pure maple syrup or stevia drops, for example)
Preparation
Place all ingredients in blender or food processor and whirl away. Spread the lusciousness into a pie plate or springform pan. Refrigerate overnight or a few hours. Thaw 20 minutes before serving.
You will be licking the spoon!
This stuff, by the way, is sublime. And it is simply pure coconut.
Social tagging:
change
>
coconut butter
>
raw cacao